World Gin Day is not something to be taken lightly. There seems to be a day for everything, but for me, a day dedicated to the wonderful concoctions to be made with juniper is one that should truly be savoured. Imagine my delight then, when I received an invite to sample the very stuff at the Magdalen Chapter in Exeter. There couldn't possibly be a more perfect setting than the hotel's historic walled courtyard, complete with landscaped gardens and a pool, from which to sample the creations of the hotel's mixologist Ben.
After a quick tour through the cosy library, stylish circular dining room and heritage-style bar my companion and I slumped into a couple of the hotel's striped deck chairs in the garden and awaited our fate.
First on the menu was a Spring Green, appearing in a tumbler the drink did its best to camouflage into the impossibly green lawn, but by now my companion and I were parched and we gulped down the refreshing muddle of Hendrick's Gin, Midori melon liqueur, lime and cucumber without even pausing to clink our glasses.
Ben followed this up with a fruitier number, his Pimms Martini combining the two cocktails no no gin lover can every refuse. The final flourish left us stumped, the Rhubarb Sour was so precise in its flavour combinations – the Bombay Sapphire, lemon, grenadine, and a Magdalen-exclusive – rhubarb liqueur, created by Ben, was stirred together with an egg white, creating just the right amount of bite. We reclined, giving thought to where we recognised this incredibly nostalgic flavour from. Just as the sun began to set behind the hotel, and our glasses were drained, we both remembered in unison – the drink we both favoured bore an uncanny resemblance to the rhubarb and custard boiled sweets of our childhoods.
We left satiated, for never a better gin tasting session had been had.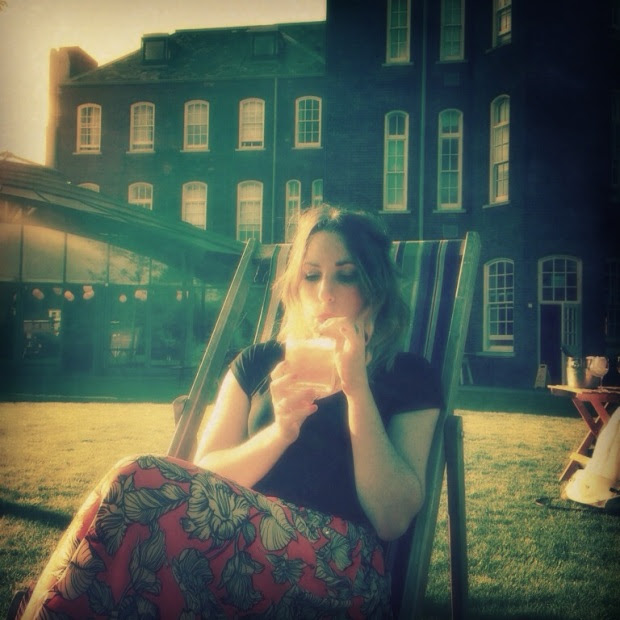 The Magdalen Chapter
Magdalen Street
Exeter